Being cocky is described as conceited or arrogant, especially in a bold or impudent way. Cockiness is a more urbanized slang term, that is exactly the same as arrogance, but the word sounds worse to me.
Former NBA star Lamar Odom was found unconscious in Pahrump, Nevada at Dennis Hoff's Love Ranch South.
Word has it that the 35 year old was found with fluid coming out of his mouth after partying with the ladies. Sources also say that he was taking an herbal supplement for Viagra.
Lamar was rushed to Pahrump hospital and incubated, which means he is most likely incapable of breathing involuntarily.
Allegedly, Lanar is being airlifted from the hospital to Las Vegas for further treatment. I will continue to update you on this story.
Social media trends #prayforLamar #LamarOdom
The Modern Day Amazon
Williams, who defeated Garbine Muguruza to

win her sixth Wimbledon

finals match on Saturday, attended the annual dinner at the Guidlhall in London with fellow champ

Novak Djokovic

.
The 33-year-old documented the party on social media, posting the photo of herself in the glamorous dress via Instagram.
"Swerve," she wrote of the floor-length gown, which featured an embellished and mesh bodice and a silk train.
Steph Curry With The Shot!
Stephen Curry & Andre Iguodala
Andre Iguodala was announced as the MVP of the series. Although many were expecting point guard Stephen Curry to receive the title, there were also debates about if Lebron should have still gotten the MVP title. Iguodala outscored the Cavs by 62 points during the series, so he's well deserving of the MVP title, even if Steph Curry got the shot.
Score 105-97
Congratulations Warriors!
Round 1 Fight!
A Superbowl Worth the Watch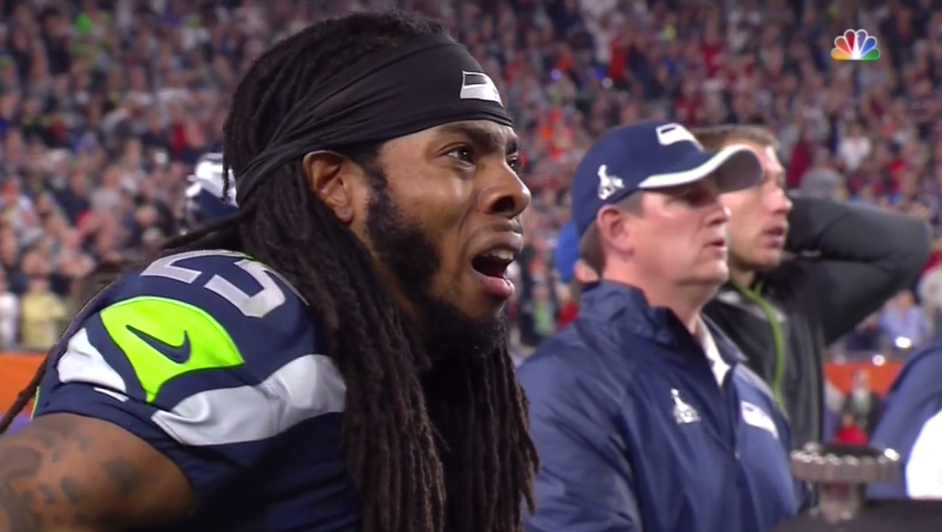 New England Patriots VS Seattle Seahawks
28 - 24
The Half Time Show
Stuart Scott Legacy




Stuart Scott, a longtime anchor at ESPN, died Sunday morning on January 4, 2015, at the age of 49. He inspired his colleagues with his talent, work ethic, personality and his devotion to his daughters Taelor, 19, and Sydni, 15.

His first real ESPN assignments were for "SportsSmash," a short sportscast twice an hour on ESPN2's "SportsNight" program. When Keith Olbermann graduated from "SportsNight" to ESPN's "SportsCenter," Stuart took his place in the anchor chair. "He was like a ball of fire walking in the door," says ESPN senior vice president Mark Gross, a coordinating producer at the time. "I had never met anybody like Stuart Scott."

ESPN will miss one of the most memorable sports anchor
Lebron 12 Sneaker Heads
The 22nd Annual ESPY Awards
Last night ESPY Awards was full of laughs and surprises, being hosted by Grammy Award Winning Rapper Drake. Drizzy was a great host keeping the crowd smiling. With performances by Iggy Azalea and Drake the ESPY Awards was a hit, trending worldwide on Twitter and Facebook the entire night. Kevin Durant and his OKC Thunder was the big winners last night, being nominated for 4 of the 31 awards and winning 2 of that 4 awards. The 22nd Annual ESPY Award show was one of the best in my opinion. Below are a couple of clips from the show.
BEST FEMALE ATHLETE
Maya Moore, Minnesota Lynx
Ronda Rousey, UFC *WINNER
Mikaela Shiffrin, Olympic Skiing
Breanna Stewart, Connecticut Women's Basketball
BEST CHAMPIONSHIP PERFORMANCE
Jimmie Johnson, NASCAR Sprint Cup Champion
Kawhi Leonard, NBA Finals MVP
Shabazz Napier, Men's NCAA Tournament MOP
David Ortiz, World Series MVP
BEST MOMENT

Kevin Durant's MVP acceptance speech
Mariano Rivera's finale game
USA vs. Ghana, World Cup *WINNER
BEST PLAY
Auburn Hail Mary
Paula Creamer 75-foot putt
Chris Davis field goal return *WINNER
Damian Lillard buzzer beater
BEST BREAKTHROUGH ATHLETE
Nick Foles, Philadelphia Eagles
Damian Lillard, Portland Trailblazers
Richard Sherman, Seattle Seahawks *WINNER
Masahiro Tanaka, New York Yankees
BEST UPSET
Connecticut wins National Championship, NCAA Men's Basketball Tournament
Mercer over Duke, NCAA Men's Basketball Tournament *WINNER
Chris Weidman over Anderson Silva, UFC 162
BEST GAME
Alabama vs. Auburn, Iron Bowl *WINNER
Kansas City Chiefs vs. Indianapolis Colts, AFC Wild Card Playoff
New York Rangers vs. Los Angeles Kings, Stanley Cup Finals Game 5
BEST TEAM
Boston Red Sox, MLB
Connecticut Women's Basketball
Florida State Football
Los Angeles Kings, NHL
San Antonio Spurs, NBA
Seattle Seahawks, NFL *WINNER
BEST COACH/MANAGER
Geno Auriemma, Connecticut Women's Basketball
Pete Carroll, Seattle Seahawks
John Farrell, Boston Red Sox
Kevin Ollie, Connecticut Men's Basketball
Gregg Popovich, San Antonio Spurs
BEST COMEBACK ATHLETE
Josh Beckett, LA Dodgers
Sidney Crosby, Pittsburgh Penguins
Dominic Moore, NY Rangers
Russell Westbrook, Oklahoma City Thunder *WINNER
BEST INTERNATIONAL ATHLETE
Rafael Nadal, Tennis
Inbee Park, Women's Golf
Cristiano Ronaldo, Portugal/Real Madrid
Sebastian Vettel, Formula One
BEST NFL PLAYER
Jamaal Charles, Kansas City Chiefs
Luke Kuechly, Carolina Panthers MLB
Peyton Manning, Denver Broncos *WINNER
LeSean McCoy, Philadelphia Eagles
Russell Wilson, Seattle Seahawks QB
BEST MLB PLAYER
Miguel Cabrera, Detroit Tigers
Chris Davis, Baltimore Orioles
Clayton Kershaw, Los Angeles Dodgers
Max Scherzer, Detroit Tigers
Mike Trout, Los Angeles Angels
BEST NHL PLAYER
Sidney Crosby, Pittsburgh Penguins
Ryan Getzlaf, Anaheim Ducks
Anze Kopitar, Los Angeles Kings
Henrik Lundqvist, New York Rangers
Jonathan Toews, Chicago Blackhawks
BEST DRIVER
Scott Dixon, IndyCar
Dale Earnhardt Jr., NASCAR
John Force, NHRA
Ryan Hunter-Reay, IndyCar *WINNER
Jimmie Johnson, NASCAR
BEST NBA PLAYER
Kevin Durant, Oklahoma City Thunder *WINNER
Blake Griffin, LA Clippers
LeBron James, Miami Heat
Joakim Noah, Chicago Bulls
BEST WNBA PLAYER
Elena Delle Donne, Chicago Sky
Angel McCoughtry, Atlanta Dream
Maya Moore, Minnesota Lynx
Candace Parker, LA Sparks
BEST FIGHTER
Jon "Bones" Jones, MMA
Floyd Mayweather, Boxing *WINNER
Manny Pacquiao, Boxing
Ronda Rousey, MMA
Andre Ward, Boxing
BEST MALE GOLFER
Martin Kaymer
Adam Scott
Henrik Stenson
Bubba Watson
BEST FEMALE GOLFER
Stacy Lewis
Inbee Park
Suzann Pettersen
Michelle Wie
BEST MALE TENNIS PLAYER
Novak Djokovic
Andy Murray
Rafael Nadal
BEST FEMALE TENNIS PLAYER
Li Na
Agnieszka Radwanska
Maria Sharapova *WINNER
Serena Williams
BEST MALE COLLEGE ATHLETE
Johnny Gaudreau, Boston College Hockey
Doug McDermott, Creighton Basketball
David Taylor, Penn State Wrestling
Lyle Thompson, Albany Lacrosse
Jameis Winston, Florida State Football
BEST FEMALE COLLEGE ATHLETE
Morgan Brian, Virginia Soccer
Taylor Cummings, Maryland Lacrosse
Breanna Stewart, Connecticut Basketball *WINNER
Micha Hancock, Penn State Volleyball
Hannah Rogers, Florida Softball
BEST MALE ACTION SPORTS ATHLETE
Grant Baker, Surfing
Tucker Hibbert, Snowmobile
Nyjah Huston, Skateboarding *WINNER
Ryan Villopoto, Motocross/Supercross
David Wise, Halfpipe Skiing
BEST FEMALE ACTION SPORTS ATHLETE
Jamie Anderson, Snowboard Slope style *WINNER
Maddie Bowman, Freestyle Skiing
Kelly Clark, Snowboard Superpipe & Halfpipe
Vicki Golden, Moto Racing
Carissa Moore, Surfing
BEST JOCKEY
Javier Castellano
Victor Espinoza *WINNER
Joel Rosario
Mike Smith
BEST MALE ATHLETE WITH A DISABILITY
Mark Bathum, Alpine Skiing
Declan Farmer, Sled Hockey
Raymond Martin, Wheelchair Racing
Mike Shea, Snowboarding
Evan Strong, Snowboarding
BEST FEMALE ATHLETE WITH A DISABILITY
Minda Dentler, Handcyclist
Oksana Masters, Sitting Skier
Tatyana McFadden, Sitting Skier/Track & Field
Laurie Stephens, Alpine Monoskier
Jamie Whitmore, Para-cycling
BEST BOWLER
Jason Belmonte
Wes Malott
Sean Rash
Pete Weber
BEST MLS PLAYER
Tim Cahill, New York Red Bulls
Marco Di Vaio, Montreal Impact
Robbie Keane, LA Galaxy
Mike Magee, Chicago Fire
BEST MALE U.S. OLYMPIC ATHLETE
Joss Christensen, Slopestyle Skiing
Sage Kotsenburg, Snowboard Slopestyle *WINNER
Ted Ligety, Alpine Skier
Charlie White, Ice Dancing
David Wise, Halfpipe Skiing
BEST FEMALE U.S. OLYMPIC ATHLETE
Jamie Anderson, Snowboard Slope style
Maddie Bowman, Halfpipe Skiing
Meryl Davis, Ice Dancing
Kaitlyn Farrington, Snowboard Halfpipe
Mikaela Shiffrin, Alpine Skier
Drake - Honorable Mention (Macklemore diss)
Blake Griffin & Chris Brown Skit
Stuart Scott Acceptance Speech
Drake Blows into Lance Ear
The Head Coach job was originally set out for Steve Kerr, who just signed the same deal as Fisher with the Golden State Warriors. Because of that said deal, Fisher became the next suitable candidate for the position.
Now that he is paired up with his old coach, Phil Jackson, how will the former guard and former head coach collaborate? When they were paired as HC and G, Phil coached Derek through five captivating Los Angeles Lakers championships out of Derek's 13 seasons with the Lakers. Since then, Derek has become a legend playing in an NBA record 259 playoff games (winning an NBA record of 161). Since Jackson seems to be the only coach alive that has been successful with a triangle offense, one would assume Fisher would follow suit.
Let us all wish for as much success for Head Coach Derek Fisher as he has had in his career as a player. An ode to progress -- to leadership.
NBA Player Gay
As we all know, on April 13, NBA supers...player Jason Collins came out as an openly gay individual. This was said to be revolutionary since he is the first openly gay ACTIVE NBA player. However, since coming out, he has yet to see the paint on the walls of an NBA locker room. As a result, gay rights advocates, among others, are making the case that he is deliberately discriminated against because of the fact that he is indeed gay. Now, as much sense as that makes, that couldn't be any further from the truth. Let's be realistic here.
However, let us not be so negative here. Let's look at the positive. Although the 12 year veteran only averaged 1.1 PPG last year, he averaged a little over THREE TIMES THAT over the course of his career! That's right! On his career, he averages a total of 3.6 points. He also averages 3.8 rebounds. With that, he technically averaged about triple the amount of points and rebounds that he racked up last year. Hmmm, don't we all have some reconsidering to do?
Despite my sarcasm in the last paragraph, I do not write this article to disrespect Jason Collins, but to say that his sexuality is not the only variable in his free agency. Collins' contract is also $1.4 million. Although that is cheap for a player his age, it is far more beneficial to sign a younger player for a cheaper price. That is also something to take into account.
All in all, Jason Collins remains a free agent...and will probably remain one. On December 2, he will be 35 years old, making him the same age as a far more productive Kobe Bryant. Without a doubt, the career of Jason Collins is coming to an end. He still has a desire to play, but it is in question whether or not his skills will permit that. Whatever the case may be, the career of Jason Collins has been on roller coaster ride. Stay up, breh breh.
Follow a group of young, hard-working players @LiveLiLiBlog on Twitter.
--@CjayTheGreat
Roc Nation Sports
Jay-Z has launched Roc Nation Sports, a full-service sports management company and has signed Yankees star Robinson Cano as its first client.
Roc Nation Sports will be led by the rapper with Juan Perez serving as president. They have partnered with CAA Sports, a division of Creative Artists Agency to co-represent the All-Star second baseman.
"Because of my love of sports, it was a natural progression to form a company where we can help top athletes in various sports the same way we have been helping artists in the music industry for years," Jay-Z said.
"At this point in my career, I am ready to take a more active role in my endeavors both on and off the field," said Cano. "I am confident that the pairing of Roc Nation Sports and CAA Sports will be essential in helping me accomplish my short- and long-term goals. I am making this important decision now so I can keep my focus on helping the Yankees succeed in 2013, while minimizing any distractions for me and my teammates."
Adrien Broner. Get used to the name. You're going to be hearing it a lot in the near future...especially if you're an avid fan of Boxing.
Broner (26-0 [22 KOs]) is one of the best boxers in the business right now. His remarkable speed and counter-punch ability makes him pretty much unbeatable (at least for right now). He also matches that speed with exceptional power behind his punches. Now obviously, an undefeated record, punching power, counter-punch ability, and speed doesn't make you Money Mayweather, but the arrogance and braggadocio does. This guy has to be one of the arrogant people in all of sports history. His specialty, like Mayweather, is getting into the heads of his opponents before Rocky Balboa'ing them in the ring. Just look at his K.O. percentage. I'd like to think that he can back up the talk. Although Broner is a phenomenon, I can see him getting humbled before Mayweather does, being that Mayweather is less aggressive and more poised. (Not that Mayweather will ever get humbled).
I'm just going to leave some highlights and interviews to back up what I was saying. Didn't be'lee me juh watch...
So yeah, Adrien "The Problem" Broner is really a problem...and will continue to be for many years to come. Get used to the name. You heard it here first...
Hit the comment box down below, or follow us on Twitter @LiveLiLiBlog. Out.
Tennessee titans running back Chris Johnson recorded the fastest 40 in combine history, a 4.24 which is one-tenth faster than Austin's.
Tavon Austin's Draft Stock should cement itself in the late first round w/ his mind blowing workouts , we all know how NFL scouts lose their damn minds over 40 times , but in this cause they have all the right to ........
MARK MY WORDS
TAVON AUSTIN WILL BE THE MOST IMPACTFUL PLAYER DRAFTED IN 2013
Here's some highlights of his record breaking night against Oklahoma
http://youtu.be/TxzPryPMB74
The Best Fighter
The man everyone was calling the best fighter on the planet got euthanized in his fight against Juan Manuel Marquez. This was their 4th meeting in their illustrious careers and, by far, the most eventful. After being snubbed 2 out of 3 times, Marquez finally proved to the world that he was a superior fighter to Manny Pacquiao with a 6th round Street Fighter punch to his chin. This punch shook up the world of boxing. This punch also shook up the internet. The picture of the lifeless body of Manny Pacquiao has spread rather swiftly.
Before this happened, the fight was very entertaining and upbeat. Pacman and Marquez exchanged detrimental blows to each other. Marquez showed his excellent counter-punching skills while Manny showed his usual speed and his flurry of punches. Up until the knockout, it seemed as though Pacquiao was winning the fight. Marquez had been bloodied from the nose and quite possibly could have had the fight stopped. Outside of Marquez's 3 round knockdown of Pacman, Pacman seemed to be controlling this fight. He proved so by answering Marquez's knockdown with a knockdown of his own. After that, it seemed as though Pacman would surely take control of the fight, until....BOOM!
All in all, regardless of how Mayweather and Pacquiao match up, we probably will never see the two of them in the ring together because Pacquiao wants to be difficult and lose two consecutive fights. That's childish. Not only won't we see it, but people hardly even want to see it anymore, because they've been exposed to the truth. Bob Arum should have allowed this to happen last year when he had the chance. His pockets would have been very pleased. Unfortunately, the boxing world (nor Manny Pacquiao) is not pleased. Let's hope that Marquez's knockout blow didn't put a dint in the legacy of Manny Pacquiao.
Follow the L!ve Twitter page @LiveLiLiBlog
--@CjayTheGreat